Room4Sugar

Brand Creative Retail + Dining
---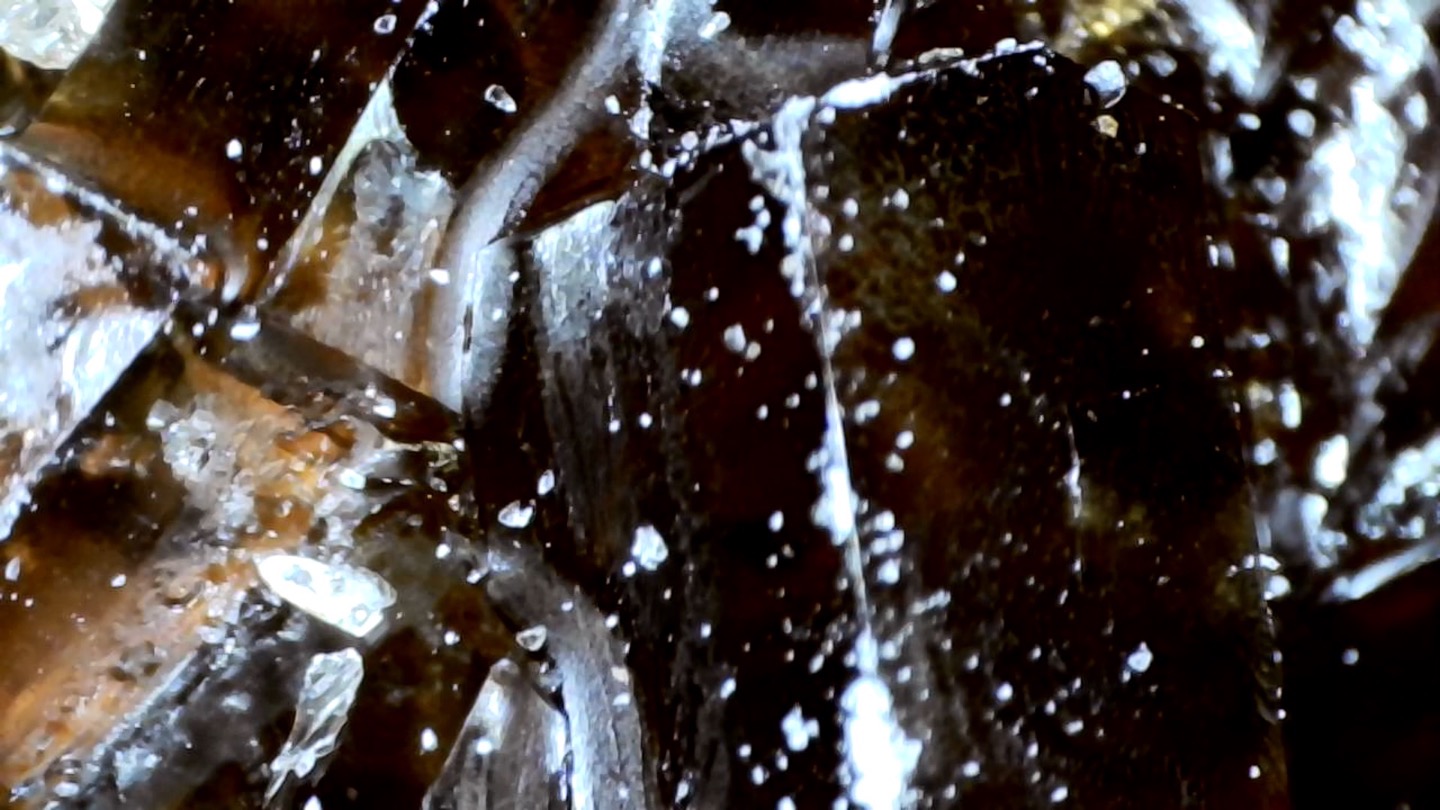 Large number of people believe sugar is an evil ingredient that we should stay away from. It does no good to human and will only raise health related problems. However, sugar cannot be subtituted. We need it to survive and right amount of sugar will boost up energy, mood, etc influencing people positively in both mental and physical ways. There are many myths about the sugar and people tend to ignore the false facts about it.
Room4Sugar is calm yet playful Avant Garde dessert bar and a lab that meets bookshop with foraging garden for slow living. With the collaboration of Magazine F and Will Goldfarb from Room4Dessert, guests will really understand what they are eating, sugar, and open up an opportunity to deliver stories of the ingredient so that by the time they leave the space, they could reimagine and celebrate sugar.

Site : 1807 N Topanga Canyon Blvd, Topanga, CA 90290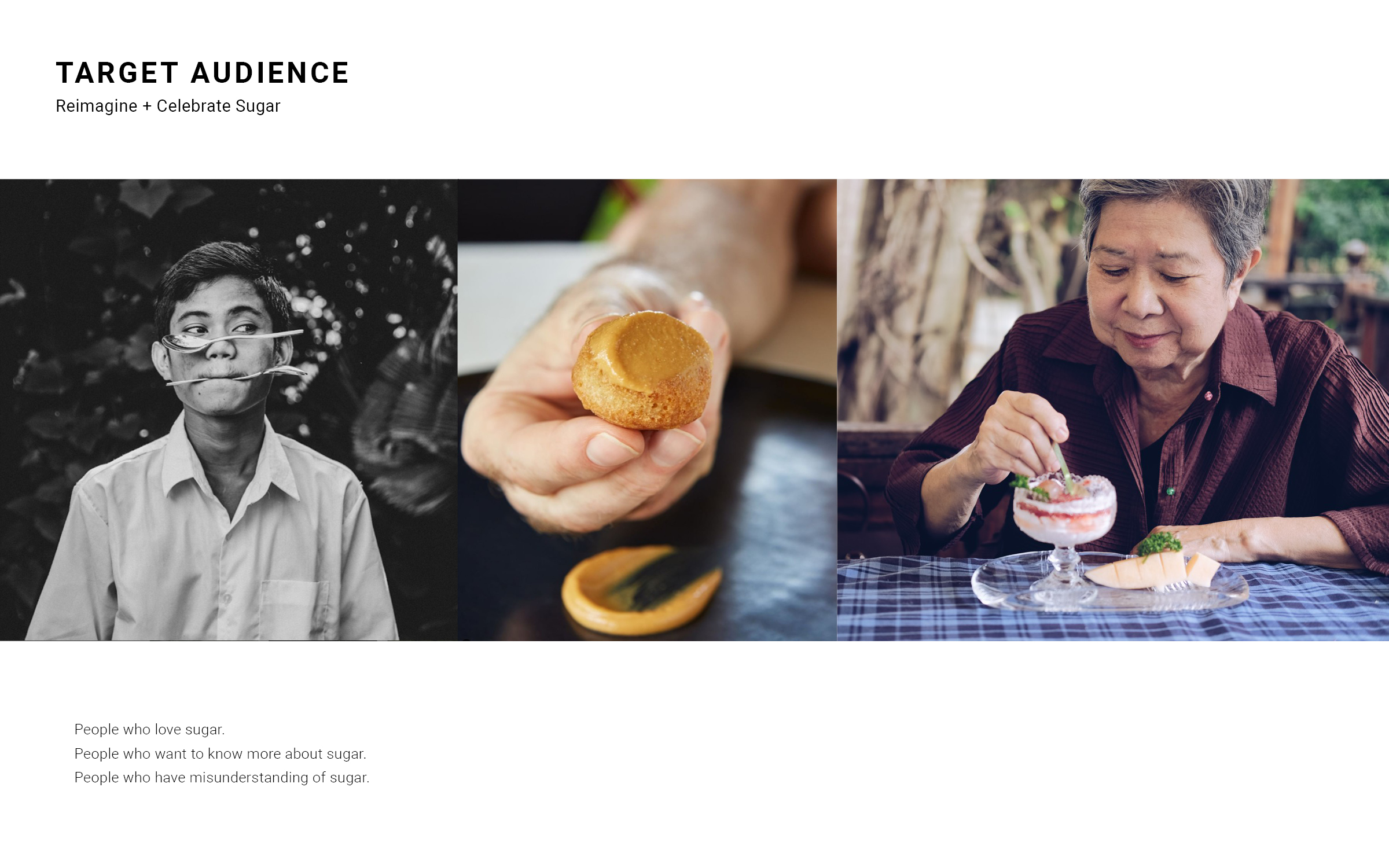 Magazine F x Chef Will Goldfarb (Room4Dessert)
Magazine F currently has nineteen issues including salt, rice, chocolate, egg, etc. I wanted to approach Room4Sugar project as an opportunity for Magazine F to release new issue focused on "Sugar".

Also, sugar is one of the fundamental ingredients when making dessert. Therefore, by collaborating with chef Will Goldfarb, who creates entire dining experience only with dessert, guests will have opportunity to learn about the ingredient more in depth through multi sensorial way and be able to feel the story of sugar in more fun, spiritual, and natural way.



---
Key Moment : Way To Room4Sugar

Guests will first be exposed to room4sugar through mainly social media and magazines that introduces food related projects. On way to room4sugar, guests will be surprised by the nature surrounding the site. Surrounded by trees and bushes, white facade will arouse guests' curiosity of what is inside.





Key Moment : Edible Garden + Lounge

Guests will harvest and eat fresh herbs and berries while exploring the garden. The harvested plants and fruits will be used in the later experience. Before starting Room4Sugar experience, guests will have opportunity to calm their mind from harvesting and arouse their curiousity beyond the next door.





Key Moment : Sugar Desert (Interactive Media/ Installation)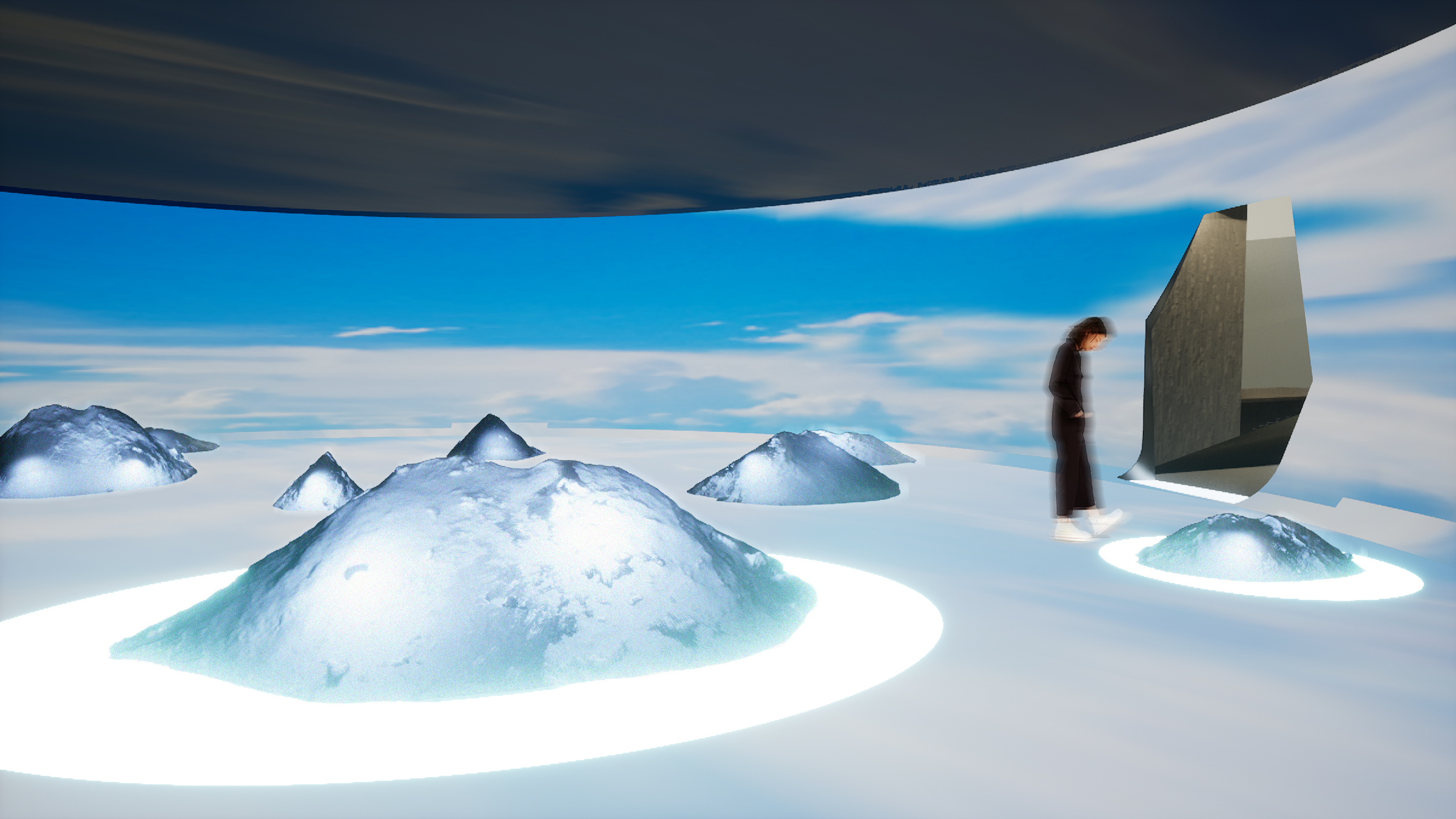 Inspired by salt desert in Bolivia, Sugar Desert represents the discovery and surprise moment that sugar can be produced fully naturally. Primary experience will be dark space slowly changing to bright which relates to the discover moment of finding that sugar can be produced fully naturally. It will be a preprogrammed loop that runs from 5 to 10 minutes. Gentle sound of feet touching the water will be played accordingly to enhance Sugar Desert experience.





Key Moment : Sugar Lab + Natural Sugar Experience


In this area, guests will see the actual sugar making process using sugar beet. From this experience, guests will have better understanding of how the ingredient is made fully naturally. Once guests make their own naturally flavored sugar, desserts will be served. Using the sugar that each individual created, desserts can be sweetened to the taste. The installation will celebrate extracting process of sugar syrup from the beet and how the characteristic of the ingredient shifted from solid to liquid in playful way.





Place Setting




Key Moment : Sugar Trail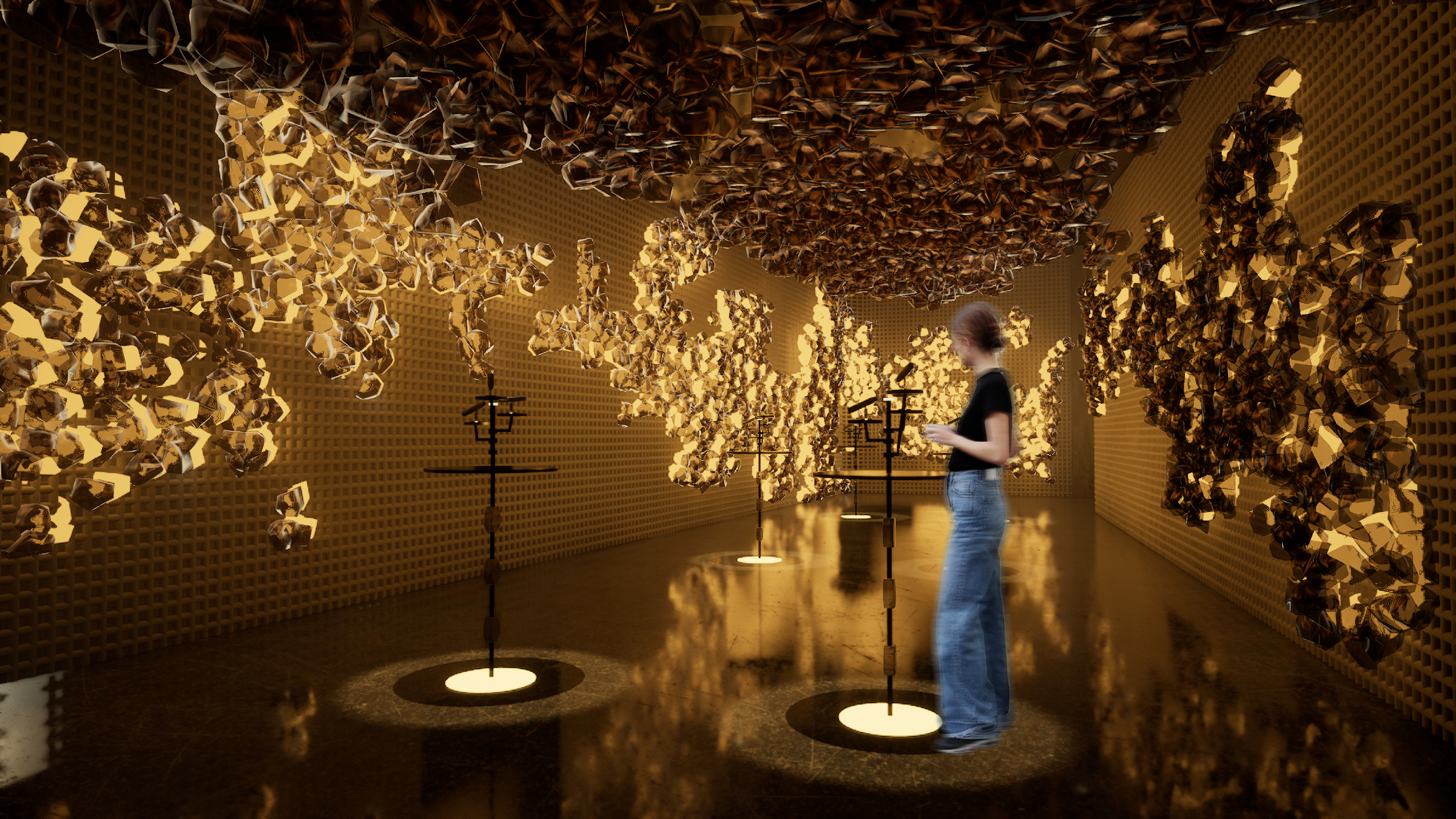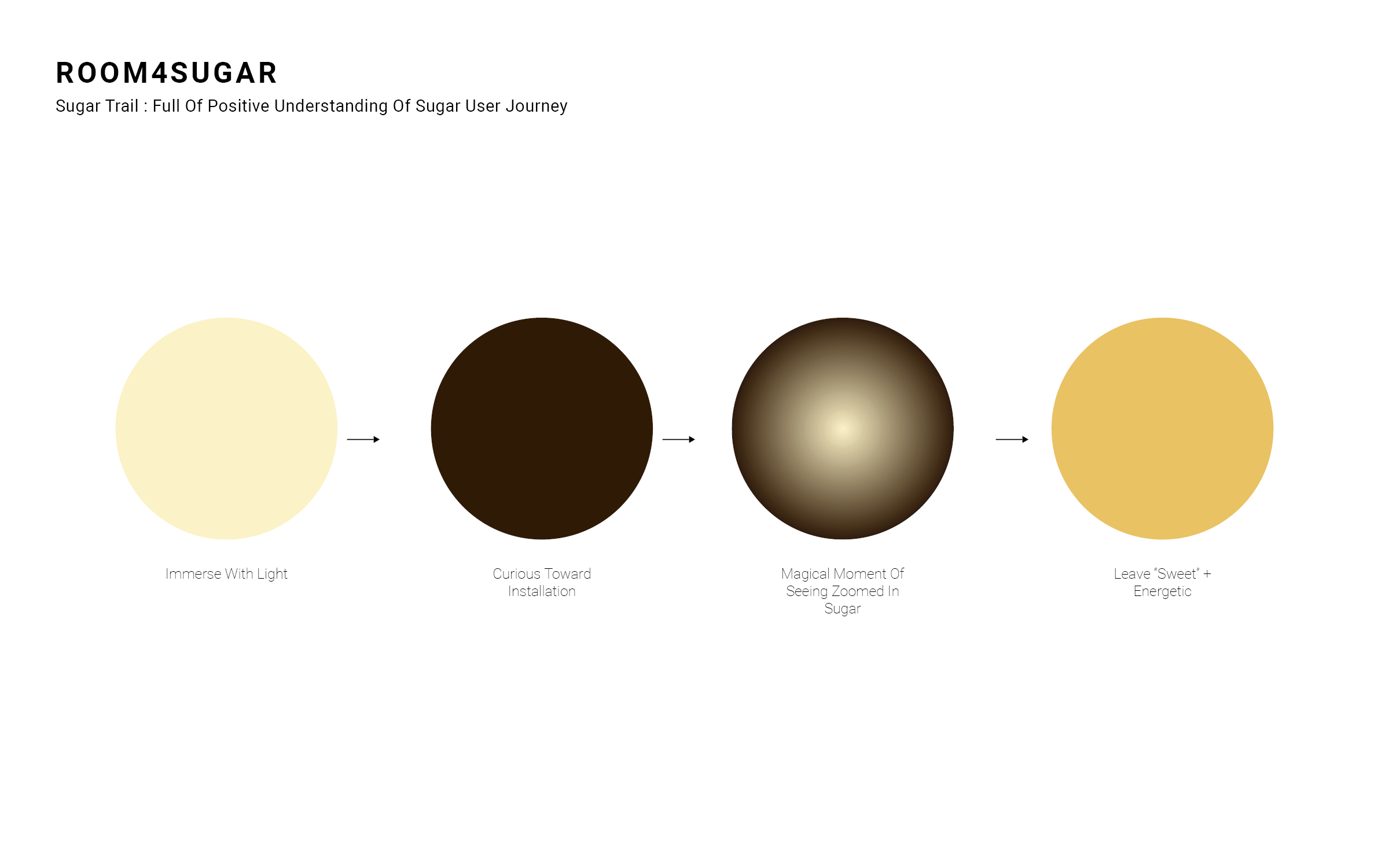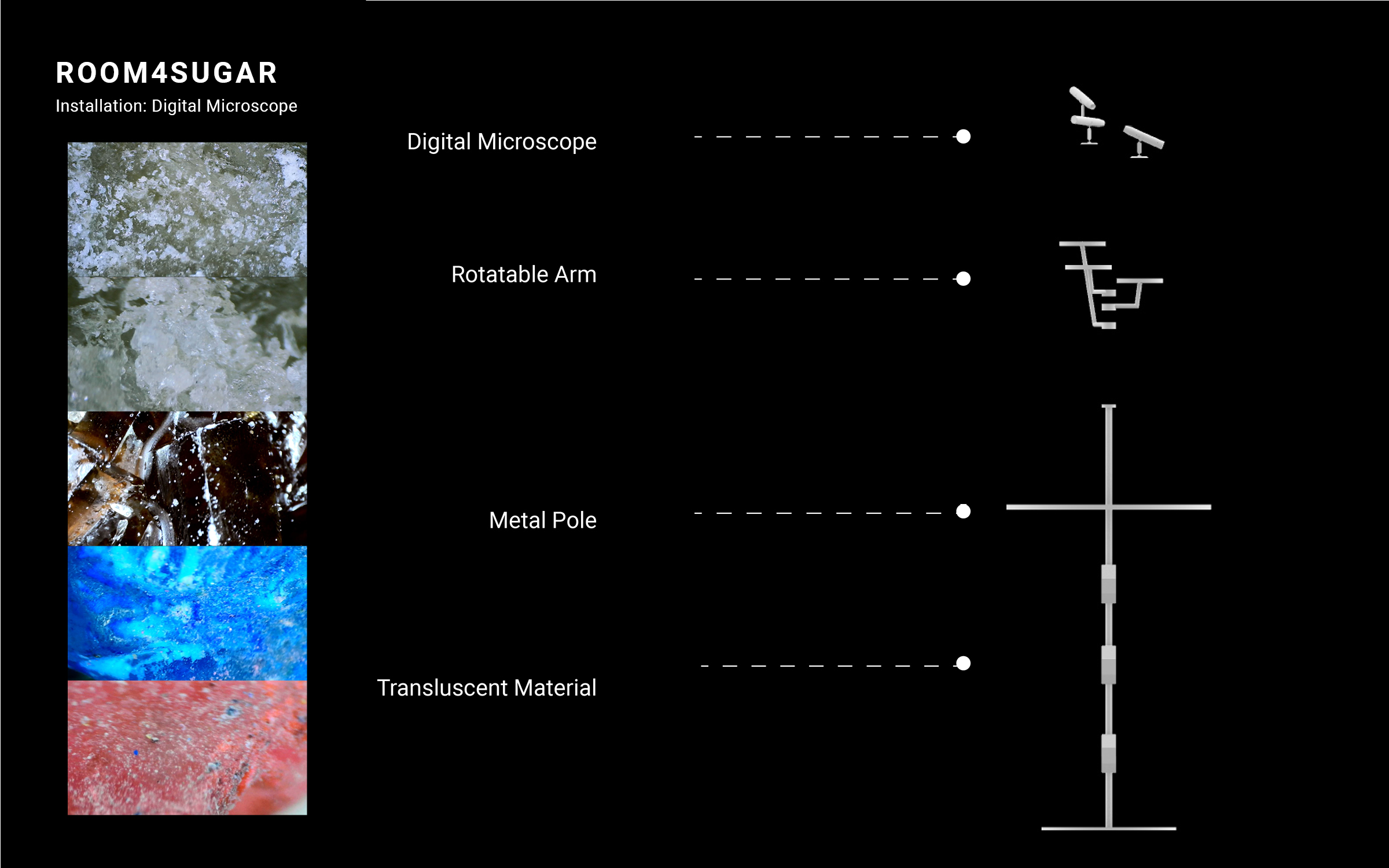 One single particle of sugar will be resting on top of each pedestal to celebrate the ingredient. Abstracted form of sugar particle will be surrounding the portal and it will gently interact with guests to how the energy they obtained from the experience. During this experience, guests will first interact with immersive light which will arouse curiosity toward the stands. Then magical moment of seeing zoomed in sugar will be presented, allowing guests to leave the space with "sweetened" emotion and feeling energetic. Each stand will have 3 microscope installed and each will have different level of zoom set up. On each stand, different kinds of naturally produced sugar will be presented, such as sugar rock, sugar grain, flavored sugar with colors, etc.





Key Moment : Sugar Market


Guests will be able to purchase new issue from Magazine F, Sugar, and previous ones from the company. Sugar related products that are from local community and also naturally made will be available as well.













Welcome to Room4Sugar where sugar can be reimagined and celebrated