la prairie Hotel

Brand Creative Boutique Hotel
---
A boutique hotel by La Prairie allows people to be revitalized and rejuvenated to become more energetic through relaxing experience with different energy levels.

Energy Path

From calm energy to full energy, each of the public space and the guestroom have different amount of energy that creates a path.
849 Ocean Ave, Santa Monica, CA 90403


Sun

- Wonderful sunset (west) and sunrise
- Only certain pat of the building gets sun so there are big shadows created by it
- Strong sun during the day

View

- Amazing beach / Ocean view
- Great Sunset and sunrise view
- Only front rooms can have views mentioned above

Traffic

- Large highway near the building and right in front of Ocean Ave
- Noise concern needs to be addressed on Ocean Ave
- Visitors can access via vehicles or by walking
- Have access to the beach right in front but need to cross the street
- Tight space for visitors to check in and out from the back of the building. Street can be blocked if visitors arrive/leave at the same time

---
Key Moment : Facade


Inspired by the brand's deep science related approach to the skincare products. To give energy differences between floor levels, bottom of upper floor windows are shaped into semi-circle, providing some view restrictions than the top floor windows. The first floor of facade will have the calm energy and the level will rise as the floor goes higher with no restriction on views at the top floor.




Key Moment : Public Space


Public spaces are divided into different energy levels. Entrance has the calm energy, lobby with subtle energy, lounge with active energy, and bar with full energy. To enhance this experience, lobby is kept simple in design and bar with the most design opportunities.




Key Moment : Guest Room



Hallway to the guestroom and the entrance give calm energy experience, followed by living area with subtle energy, bed area with active energy, and bathroom with full energy. Different from the public space, guestroom's full energy happens at the place where the most rejuvenation will happen, which is the large bathroom area.





---
---
Lighting Plan : Public Space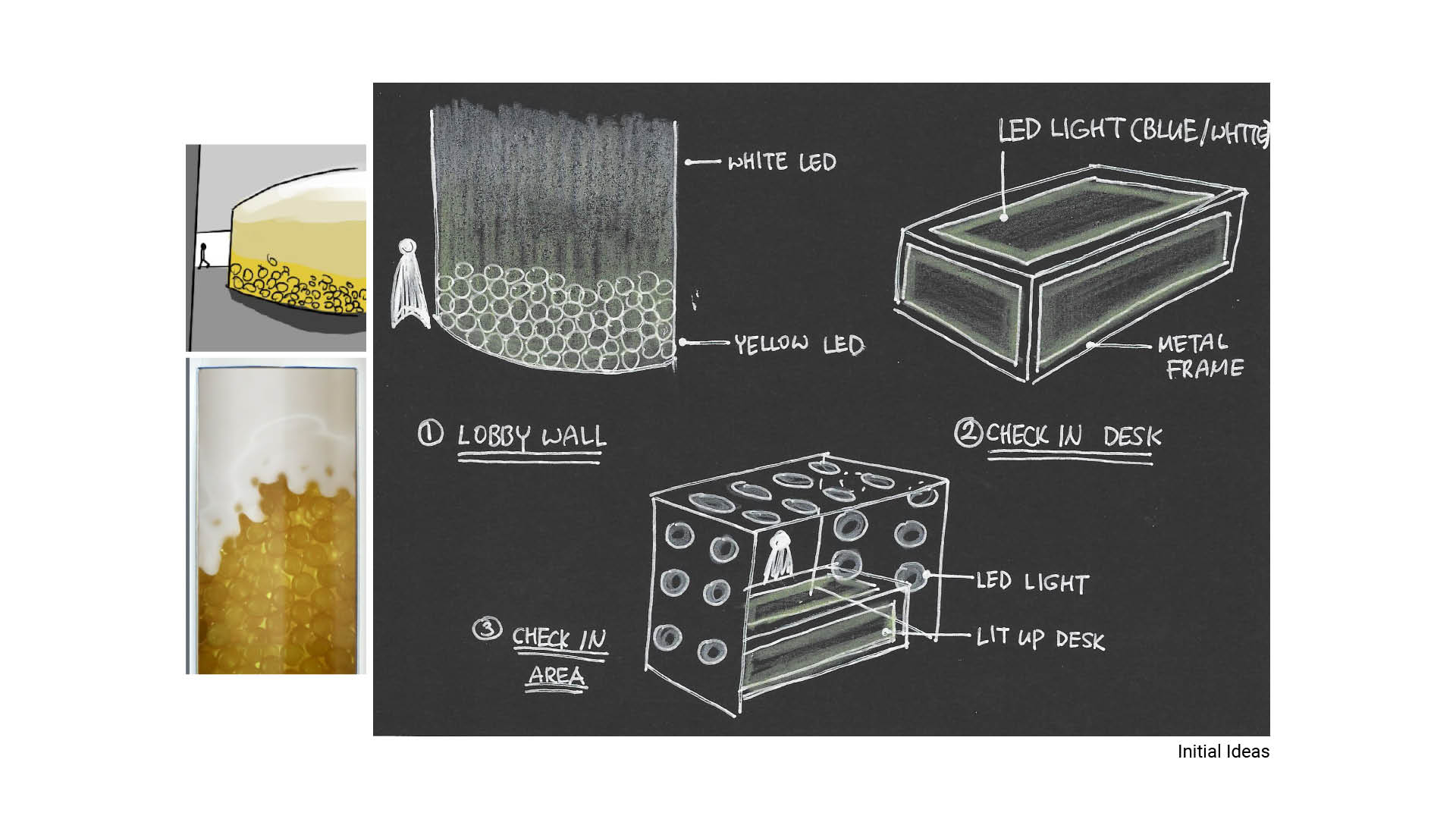 Lighting Plan : Guest Room
---
---




Process Book : https://issuu.com/eunmekwon/docs/env3_processbook_eun_me_kwon





Welcome to la prairie Hotel where you can revitalize and rejuvenate
to become more energetic through relaxing experience with different energy levels