---
Rethinking Danish Design And Improve Everyday Experience To Brighten Up One's Day

HAY is an experimental brand. Through the use of traditional Danish materials with vivid colors and different sheen, products are fun, express lots of energy, and feel innovative. Although some may not appreciate HAY products more than others, the brand creates decorative and functional products with new twists to freshen up people's daily lives. HAY is obsessed with making customers' everyday experience special.
Copenhagen is well known for it's long, cold and damp winter. LA, on the other hand, is famous for having sunny dry summer all year round. Regardless of huge difference in weather, people from both cities are mostly happy, chill, and relaxed. Arts District can be enjoyed both summer and winter. There are numerous places to warm up and cool off in both weather allowing people's visit more playful and comfortable.

Site : 221 S Garey St, LA, CA 90012
---
Key Moment : Facade + First Exposure


Approaching from E 3rd St, guests will be welcomed by large mural. They will also be intrigued by the mix and match of iridescent glass and painted brick. This combination of materials represent how HAY approaches traditional Danish design and material in fresh and playful way. Visitors will first encounter with the cafe mainly through social media, HAY websites, and online magazines. With photos and videos posted there, guests will be curious and excited to visit the cafe.



Key Moment : Entrance

At the ordering station, guests will order espresso base drinks, tea, and pastries. For those who are not staying at HAY Coffee, drinks will be given in the aluminum can. Drinks will be made at the site and workers will seal the drinks.






Thermochromatic Coffee Can
Key Moment : Forest

For ordering specialty coffee in different processes such as pour over or cold brew, guests will need to go to the other ordering station across the space. On the way there, space divider made of wax and natural wood be installed displaying HAY products that guests can also buy through QR code.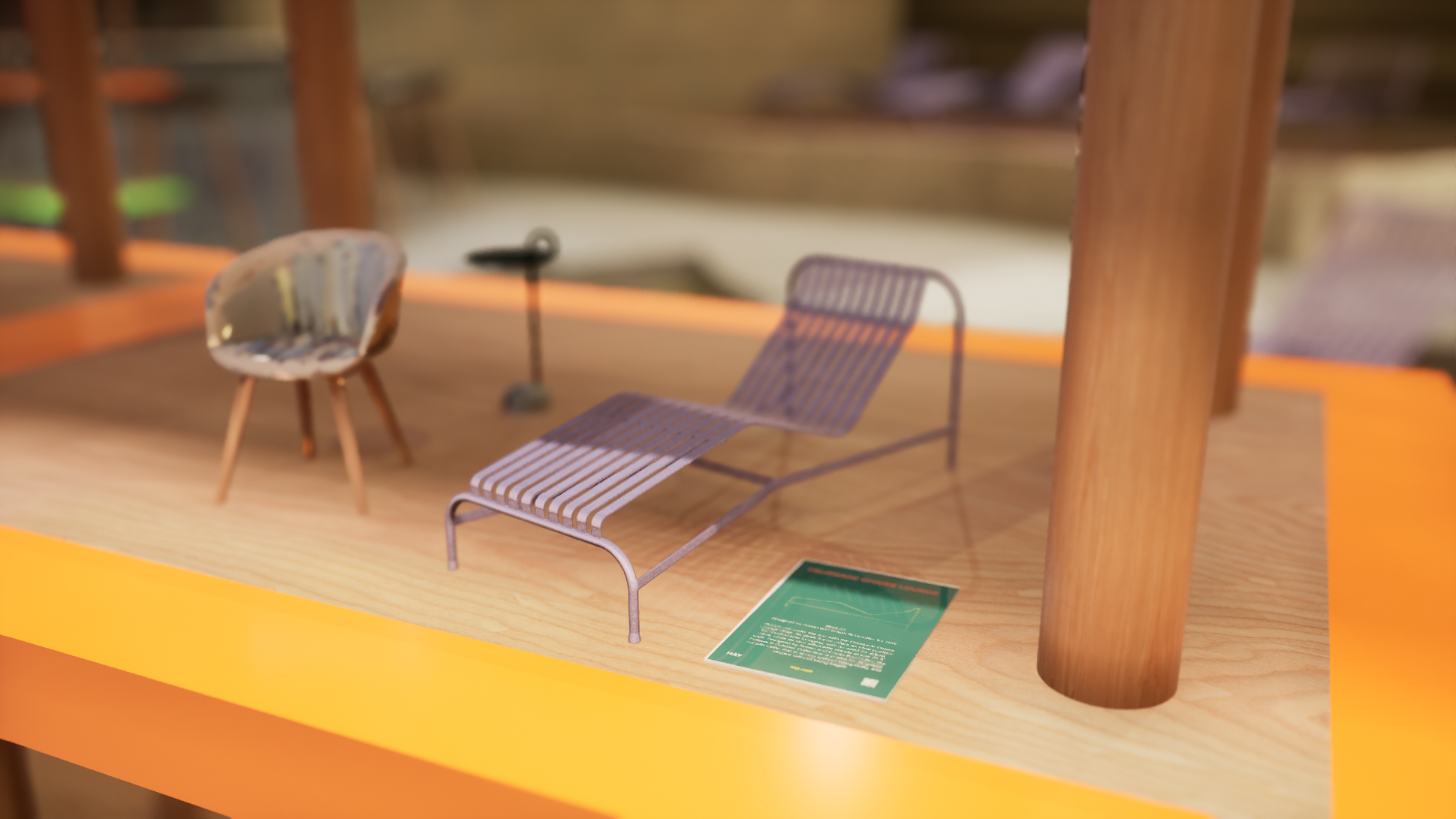 Product Information + QR Code






Space Divider

Beeswax + Oak

Wax carries two different temperature. When it is not lit on, the material stays cool or room temperature but when it is lit, the material becomes warm, even hot. I wanted to focus on this characteristic of wax to emphasize my concept of HAY Cafe, Summer Cool Winter Warmth. Also HAY is an experimental brand. Through the use of traditional Danish materials with vivid colors and different sheen, products are fun, express lots of energy, and feel innovative. With this project, I wanted to capture these brand values so that the space divider is functional yet fresh and playful.




Key Moment : Ordering For Special Coffee


At this station, guests are welcomed to choose different kinds of coffee beans and processes they prefer. For guests to remember what they had ordered, small card with explanation will be given as a present for them to carry home.






Key Moment : Winter Warmth

In Winter Warmth area, guests will be able to feel temperature warming up and relax through the hearth and choices of drinks they purchased according to their current state of warmth and coolness. Guests will be able to comfortably sit at the circular seating or on steps. Blankets will be provided for those who want extra warmth or want to drink cold drinks but stay warm underneath the blanket.






Key Moment : Summer Cool

Actual sand will be warmed up and cooled down throughout the day for guests to feel as if they are at the beach. In this space, people can hygge in more "summer" way.Blue color in the ceiling panel will arouse feeling of looking over to the beach. By being able to look down to the Winter Warmth area, temperature cooling off experience will be enhanced.





Material + Color
Welcome to HAY Coffee where you can feel summer cool winter warmth