---
COTE LA is a carnivore heaven upscale dining restaurant that blends the dining experience of Korean Barbecue with the hallmark of a classic American Steakhouse with the goal of enjoying the hybrid grilling experience in a healthy and well-balanced meal. Through an immersive multi media experience, those who love meat will learn more about the Korean Barbecue, appreciate ingredients, and have fun, lively yet delicious night at the Korean-style steakhouse.
COTE
is a Michelin-starred restaurant that combines experience of Korean Barbeque and a classic American Steakhouse.
It has its own dry aged room which is not common for a Korean barbeque place to have.

Concept Diagram. COTE's mantra is meat + fire + booze = great smile.




810 Traction Ave, LA, CA 90013

COTE LA is located in LA Artis District. Similar to how the restaurant combines Korean Barbecue and American Steakhouse cultures together, the site is chosen because it's the place where different cultures come together to create its own unique atmosphere.

810 Traction Ave has multiple bars and art galleries near by. When guests come to the neighborhood, they can visit these places either before or after dining at COTE LA and get exposed to creative and fun environment.

---
Key Moment : Facade


Inspired by layers of cooking grid and charcoal from bbq grill, facade is made of floating metal structure and dark plaster finish underneath it. Metal frames resemble the cooking grid and the wall finish underneath represents charcoal used for the barbecue.

SMOKEY blackened steel

and

clay plaster in rustic finish

represent raw and fresh quality of ingredients in Korean barbeque.




Key Moment : Entrance


Guests can purchase COTE products or pick up to-go boxes at the entrance. Pink volcanic rock was used for the counter. They can also wait at the sitting area before enjoying dinner at COTE. Orange wall is from a bar, which guests can visit if they arrive earlier than their reservation time. Each guests will get welcome drink when they arrive at the entrance.





Key Moment : Red Room

Guests will visit Red Room before going to their tables. In this room, people will learn about different cuts of meat, how they are prepared, etc through projected curved wall. Through the video, guests will be able to appreciate and understand meat more in depth. Meat vault is located on the other side of the projection mapped wall. All the meats used at COTE is stored at the vault and the guests will be able to look at the real cuts of meat through red glass wall while learning about them in the video.





Key Moment : Tasting Room

Guests will be able to choose three different cuts of meat to taste before choosing the menu. Each guests will have their own individual griddle set and they will have grilling experience with the chosen cuts of the meat. Tasting room is designed to be open to below. Guests from the second floor can look down and see people grilling their own tasting menu while dining at COTE.





Key Moment : Dining Area

Dining area accomodates different size groups. Each row of grilling tables are in different height of platforms so that each table can have more privacy while dining. Guests sitting next to the large window will be able to see others inside tasting room. Projection mapped ceiling shows videos of vegetables used in COTE LA. Curved ceiling enhances the immersive experience while dining at the restaurant. Video also shows how to eat ssam, which is a Korean style of eating bbq with lettuce wrap. Through the video, guests can have deeper understanding in Korean bbq and get a chance to explore all the side dishes.





Key Moment : Hallway + Private Dining Room

Bright colored projection mapped floor will lead guests to their private dining rooms. The video will make guests to feel like they are standing on top of the hot red grill and allow them to get excited as if they are at a club- it follws the mentra of COTE which is meat + booze + fire = smile. Volcanic ash coated walls will give earthy and and raw quality similar to charcoal. Private dining rooms are located on the right side of the second floor. They carry a theme of raw and earthy. Rammed earth wall in different greys makes guests feel as if they are part of the charcoal used at the barbeque.






Place Setting

Tablewares are chosen based on the raw and earthy quality of Korean bbq. Dishes are made of glazed volcanic rock and spoons. Spoons and chopsticks are made out of brass.






Key Moment : Bar

After the meal, guests must pass the bar to exit the building. If they would like to stay for more booze, guests can grab a table and extend their stay at COTE LA. Korean barbeque is more than just having food at a restaurant. It's about enjoying the entire process of preparing + eating food and drinking with the loved ones. Reflected Brass wall resembles the fire from Korean bbq grill. Glowing orange, it reminds guests of flames from their dining experience.






Material + Color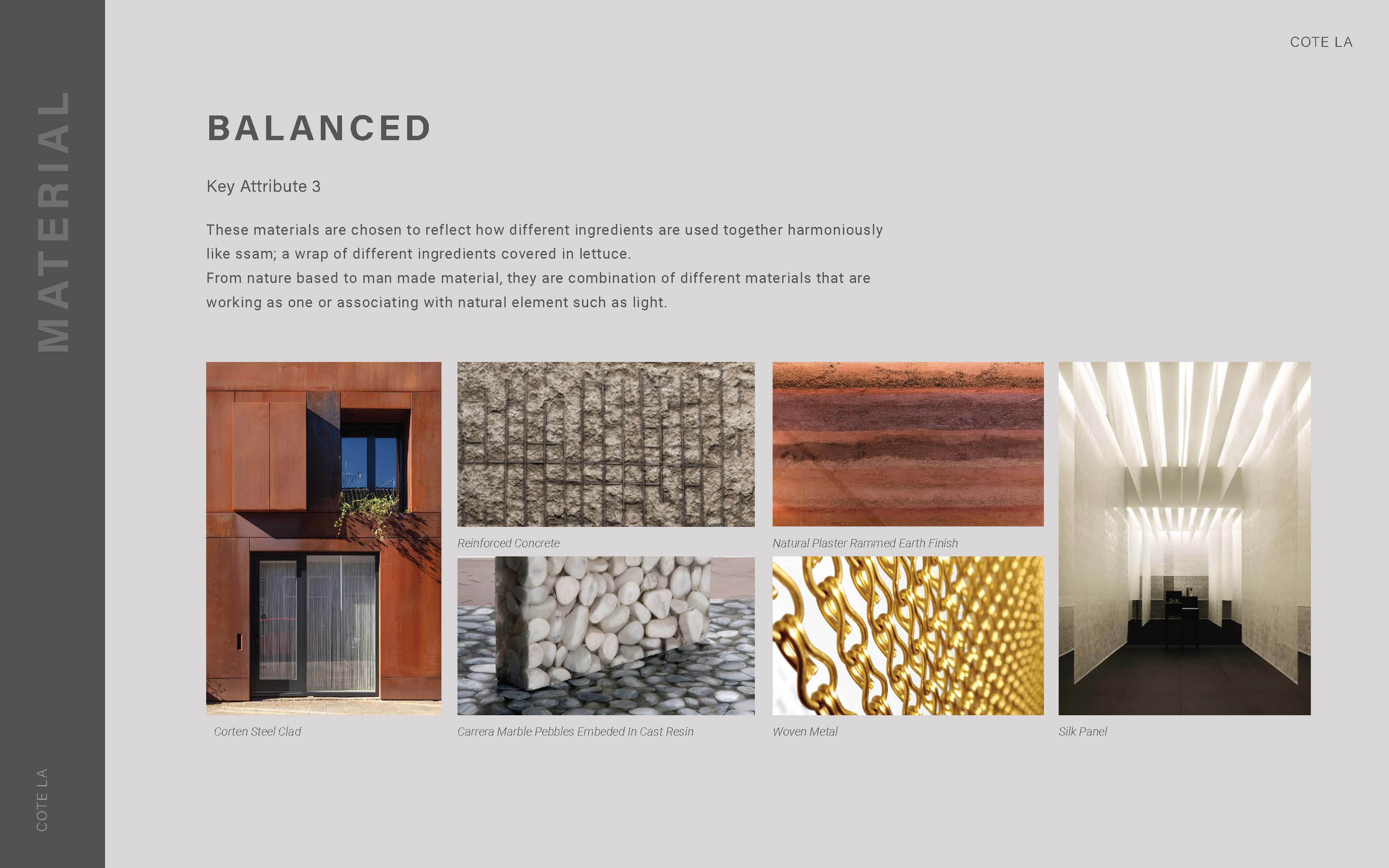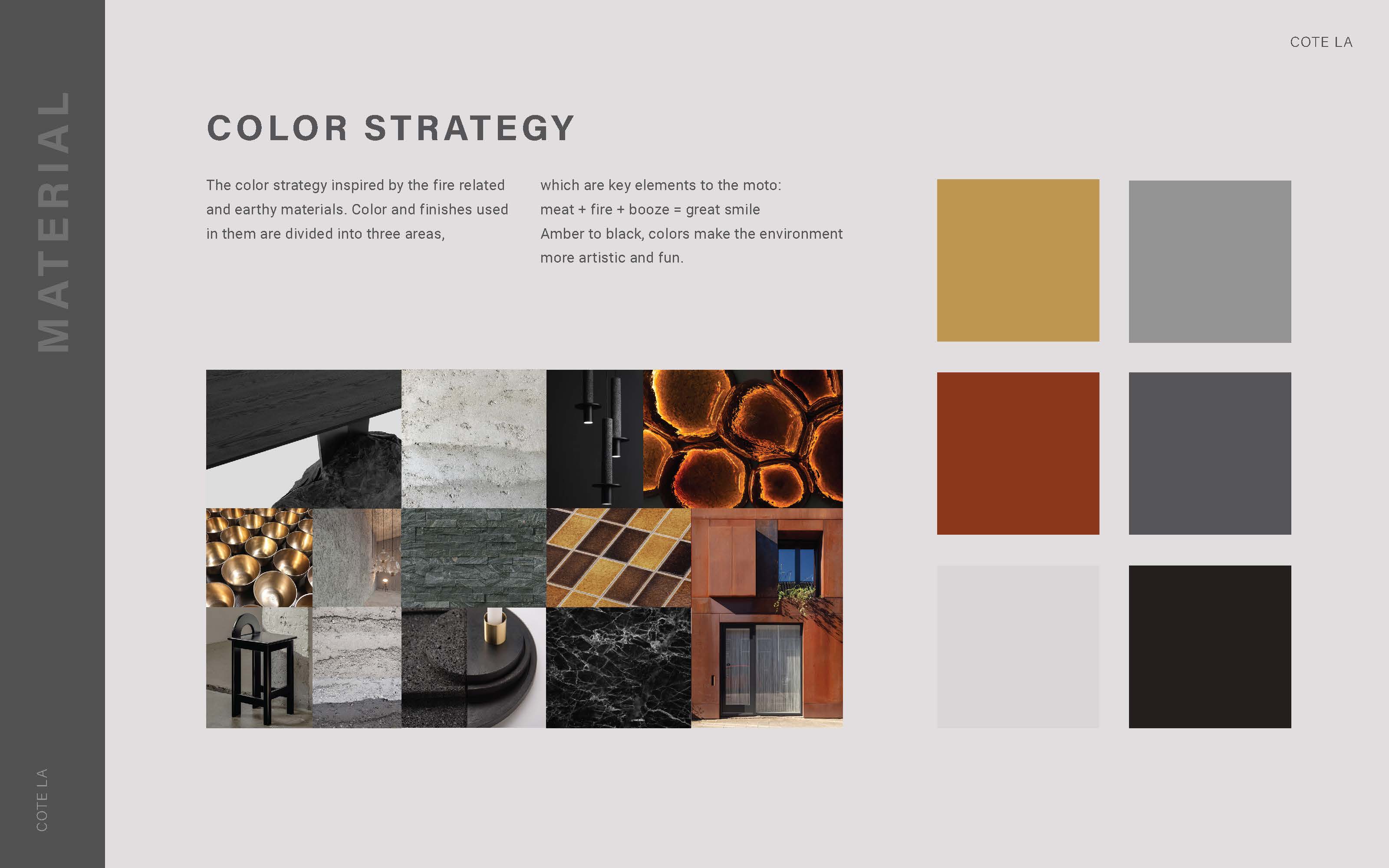 Floor Plan With Material
---
Welcome to COTE LA where you can enjoy meat + fire + booze and leave with smile